SHARK ATTACK? - THE RIDE!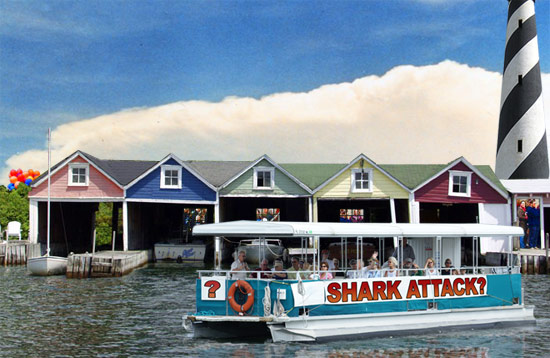 Remember how scary the first Jaws movie was, even though through most of the movie you could barely catch a glimpse of the great white eating machine? Well, imagine how much scarier our Shark Attack(?) Ride is because on this ride... YOU DON'T SEE A SHARK AT ALL!
That's right, this is a psychologically-terrifying attraction in which you and a pontoon full of thrill-seekers float gently through waters in which sharks have (allegedly) been spotted! But while you wait in trembling anticipation of a toothsome attack, IT NEVER HAPPENS!
Unlike some thrill rides that let the tension build and build and then finally explode with a sudden shock, this one never gives you that release! The thrills never stop, because they never really happen! OR WILL THEY?! (no.)
Return to Sea Point