CAP'N WACKY'S LIGHTHOUSE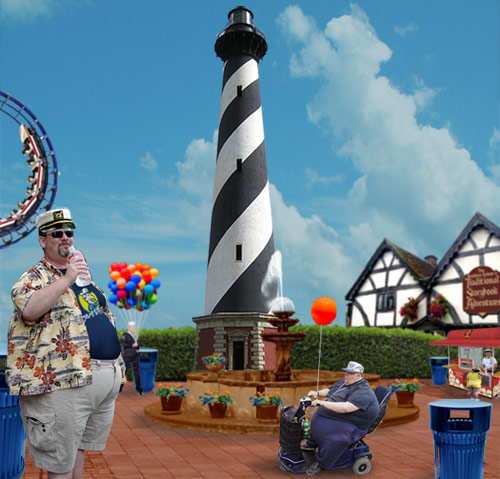 Jutting out of the center of Five Point Park is Cap'n Wacky's Lighthouse, the most recognizable structure in all of Cap'n Wacky World. Here are some fun facts about the lighthouse:
* The lighthouse is 203 feet tall, though using a technique called "forced-perspective" our Creatitions actually make the castle appear to be 208 feet tall. Even knowing this fact, you'll find it hard to tell the difference. They're that good.
* Contrary to popular myth, Amalgamated Humor did not accept a massive sum from the government in 1964 to house a thermonuclear missle aimed at Cuba inside the lighthouse. Some of those details are just not accurate.
* The lighthouse is the third most photographed structure in the world, ahead of the Eifel Tower, the Empire State Building, and Bruce Jenner's face.
* The lighthouse is way awesome.
* The design of the lighthouse was inspired by the famous Cape Hatteras Lighthouse in Cape Hatteras, North Carolina. It is NOT actually the original Cape Hatteras Lighthouse, and the fact that that structure disappeared in 1959, during the construction of Cap'n Wacky World, is a complete coincidence. To suggest that even a corporation like Amalgamated Humor, Inc, with its enormous resources might be able to steal a lighthouse in the middle of the night is just silly. Obviously we are not responsible for the terrible accidents that happened as ships crashed into the diamond sholes near the cape with no lighthouse to warn them in the years following the lighthouse's disappearance, so just drop the lawsuits already, OK? OK.
* I bet the lighthouse could beat up Cinderella's Castle.
* In the event of a hurricane, the lighthouse is designed to retract into the ground.
* In the event of a tornado, the lighthouse is designed to harmlessly spin around and around.
* In the event of a spontanseous disco party, the lighthouse is designed to get down and get funky.
* In 1998 daredevil base jumper Taz Lingstrom jumped off of the top of the lighthouse. He glided smoothly through the air, narrowly missing being hit by the speeding cars from the Extreme Inversion Coaster, before finally landing in a shark-infested pool in Sea Point. Fortunately, our security guards managed to pull him out of the pool before he could be devoured by the ravenous sharks. Then they beat him to death.
* If we wanted to, we could totally use the lighthouse to call Batman.
Return to Lighthouse Court